TV is a powerful medium. TV ads often transcend advertising by making it into the cultural lexicon, inspiring water cooler chats and signifying milestones throughout the year. Ultimately, they bring us together.
But sadly, this doesn't extend to everyone. Millions of people in the UK have different needs – from deafness, blindness, learning disabilities and more – which can put barriers in the way of understanding or fully engaging with ads. This is why we think it should be a priority for the whole industry to help to overcome those barriers, by creating #AdsForAll.
We do know however, that a significant barrier for agencies and advertisers to make their ads accessible is the know-how. Just where to start? How can it be done properly? And of course, how much will it cost?
Well, to demystify these concerns, we were proud to present Ad Accessibility Training, in collaboration with RNID & RNIB. We hope that it will play a part in helping the industry to make good on this goal.
---
The Training
Training Manager Michael presenting 7 reasons to make your ads accessible
When? Wednesday 1st November.
Where? Online via Zoom webinar.
Who? Thank you to the 30 delegates who attended. From those who have supplied their feedback – 100% would recommend the course, with an average rating of 4.5/5.
A very special thank you goes out to those who collaborated in the making (and delivery!) of the course, including:
RNIB Media – Sonali Rai
RNIB – Dave Williams
RNID – Andy Taylor & Natasha Robinson
AMV BBDO – Mike Alhadeff
Zoo Digital
Signpost Productions
Egta
What? Michael Haydon, our UK & International Training Manager, put forward a business case for why accessible ads are really worthwhile, both financially and morally – featuring unique insights from people with the lived experience.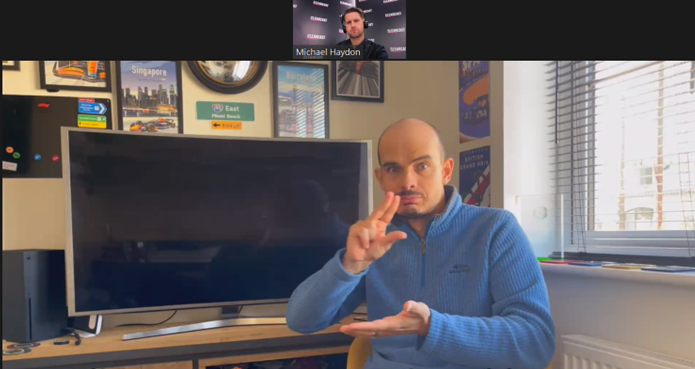 Andy from RNID explaining his thoughts on TV ads
"I really enjoyed that you made sure to include the voices/opinions of disabled people. There is a tendency in disability education to talk about/for people with disabilities, as opposed to letting the real people affected by accessible provisions explain for themselves. It's a hard balance as well to not make it the burden of disabled people to have to fight to be taken seriously. In this way, the training hit a lovely balance I thought."
Beth, Tviva Ltd, training delegate
Delving into subtitles (ST) and British Sign Language (BSL), Michael – along with key input from RNID who focus on those who are deaf, have hearing loss or tinnitus – shared tips, statistics, costs and 'how to' demos, as well some great examples of accessible ads which were successful.
"I really hope more advertisers will add Subtitles and Audio Description to their ads. As said, the costs are very low so everyone should do it."
Zoe, Thinkbox, training delegate
Following this, we were joined live by Sonali and Dave from RNIB, who shared expertise on considering people who are blind or partially-sighted. They discussed getting audio description (AD) right, working around things creatively and their own personal experiences, as well as sharing lot's more brilliant ad examples.
"A few carefully chosen words can sometimes be enough."
Dave, RNIB.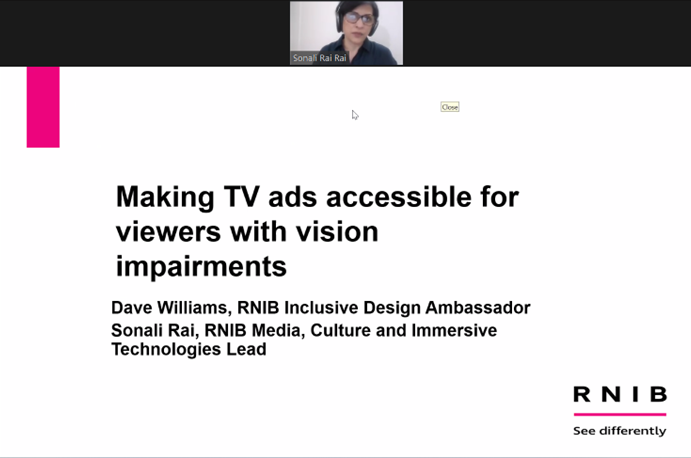 Sonali from RNIB presenting on TV ads for viewers with vision impairments
"I really enjoyed hearing from the RNIB for additional context. I liked hearing the audio described ads (it was interesting that some don't actually need AD!) and from Dave on how he and his wife watch TV as two blind people."
Zoe, Thinkbox, training delegate
---
Next Steps
For further reading we can recommend this excellent guide put together by ISBA and Flock Associates, plus egta's accessibility hub, both of which are full of industry learnings, best practice advice and extra resources to help you tackle accessibility in TV ads.
Missed the session? We're really keen to share it with as many people across the industry as possible. So, we're offering the course as a bespoke option, meaning that we can deliver it directly to you and your colleagues, either at your offices, ours or online.
Get in touch at training@clearcast.co.uk for prices and availability.
"Essential for any and all agencies – it succinctly explains exactly why you should consider accessibility in advertising and how easy the process really is."
Phil, Channel 4, training delegate
"Knowing nothing about the matter, or rather not considered it in the past, I'm now enlightened."
Stig, ITV, training delegate