This blog is a copy of an article published by Campaign magazine on 9th November, which you can view here.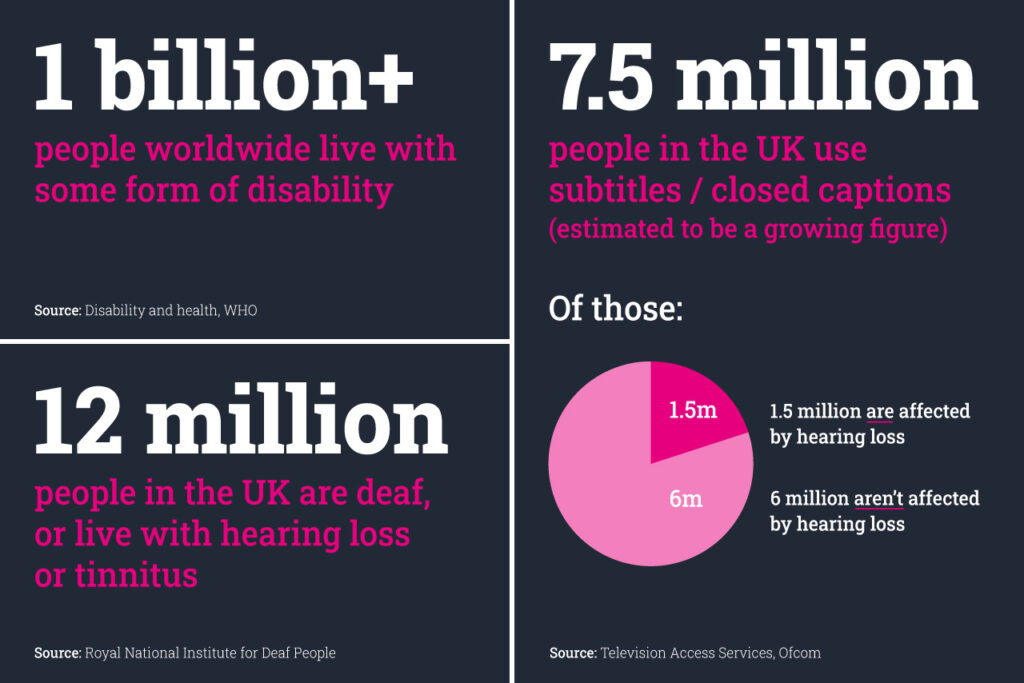 You probably know us for clearing ads. But as your partners in advertising, we're always looking for new ways to help make it easier for brands to advertise responsibly. Having recently taken a closer look at accessibility in TV ads, we want to highlight a crucial issue for the industry.
People living with disabilities make up the world's largest minority group. For the deaf and hard of hearing, subtitles (ST) are an effective way to engage with media, meaning TV ads without them can leave people feeling frustrated and isolated. This lack of accessibility makes it impossible for many people to talk about this year's Christmas ads, exciting new film trailers, or the latest must-have product. TV is for everyone, and ads should be no different. They, too, have the power to transform, connect and inspire – something nobody should be excluded from.
People who are deaf or have hearing loss are not the only ones who benefit from ST, as a staggering 80% of those who choose to use them, do so for other reasons. As well as those with learning impairments and foreign-language speakers, the way we watch television is changing. Common examples include consuming content on public transport, watching sport in the pub, or listening on low volume or mute to avoid disturbing housemates.
"Subtitles have become an essential aid for following a show for many people – especially if other distractions and devices are competing for their attention", according to Stagetext research. And these numbers are only growing. Today, young people are almost four times more likely than older people to use ST, despite having fewer hearing problems. Population growth and ageing are also increasing the number of people developing hearing loss. So, if ST are important to so many TV viewers, it stands to reason that they should be a priority for the advertising industry too.
It's become clear that improving accessibility is not only a crucial societal responsibility, but also an opportunity. As the stats show, it makes sense that "Advertisers are beginning to realise that current practices are excluding significant portions of the population from their campaign messaging", and including them can widen potential audience reach by millions.
So, the question is, why aren't more advertisers jumping at the chance to include them? We believe, as these things often do, it comes down to time and cost. Although the data at the moment is relatively limited on how many ads carry ST, it's generally accepted within the industry that the number is too low. In contrast to programming, which has made strides in "widening access to TV content for the deaf and hard of hearing", TV ads have "so far lagged behind" despite the insight that 72% of people in the UK think all ads should be ST. So, let's do something about that.
It's the responsibility of everyone to improve accessibility, including Clearcast. We looked at how we could help the industry do better for those using ST. When developing our newest platform, The Library, we ensured that the process of ordering and delivering ST was built right into the heart of the workflow.
We've been able to simplify and speed things up and create a marketplace that connects suppliers and advertisers. This marketplace will include our new service, which guarantees a 12-hour turnaround to stations if chosen alongside our Delivery. We're also delighted that Zoo Digital are already on board as our first integrated supplier and hope to welcome many more soon. And finally, to ensure that viewers don't have to compromise on quality, we've produced a style guide to guarantee that the onscreen experience doesn't deter from the ad's creative integrity.
"There are 12 million people in the UK who are deaf, living with hearing loss or tinnitus, and they have a right to access broadcast content as much as everyone. This great initiative highlights how all advertisers can make their content more accessible and inclusive.

Subtitles allow for deaf people, those with hearing loss or tinnitus to access TV. Any initiative which expands the availability of subtitles to make content more accessible and inclusive is welcomed by RNID, and we hope that more advertisers will adopt subtitles as standard in the future. For more support or information, please visit RNID.org.uk"

Teri Devine, Associate Director for Inclusion at RNID, 2022
We hope these new changes will improve ST culture for good, increasing the number of ads that include them, and ultimately making TV advertising more accessible for all.
For out more about ordering subtitles through The Library and our subtitling service here.
Sources:
1. Disability and health, WHO, 2021
2. Teri Devine, Associate Director for Inclusion, RNID, 2022
3. Television access services study, Ofcom, 2006
4. Young viewers prefer TV subtitles, research suggests, BBC, 2021
5. egta snapshot: a practical guide to access services in TV Advertising, egta, 2022
6. 72% of people in the UK, Subtext, 2021