A year of streamlining the process
One year ago we launched the Clearcast Delivery service and what a year it's been! We would like to thank all our customers who have embraced and supported what we're doing and to those who joined us for our 1st birthday party on our sunny roof terrace on Thursday night.
The movement of digital content has been transformed over the years. Delivery of ads is no different. The type of advertisers has, however, changed drastically. Ad inventory is now being sold in a variety of ways, attracting new to TV (and BVOD) advertisers.
Traditional advertisers are becoming more agile and reactive to the market. The cost of production has fallen significantly with new devices and editing software. Audiences have fragmented, meaning the cost for reaching smaller targeted audiences is now within the grasp of many more companies wishing to promote and grow their business. The cost and process of content delivery needs to be simple as advertisers need to maximise their creative and media spend.
After a year's activity we're pleased to report it's been embraced and used by many. Orders can be placed on mobile, subtitles can be ordered and added seamlessly, delivery is fast, really fast.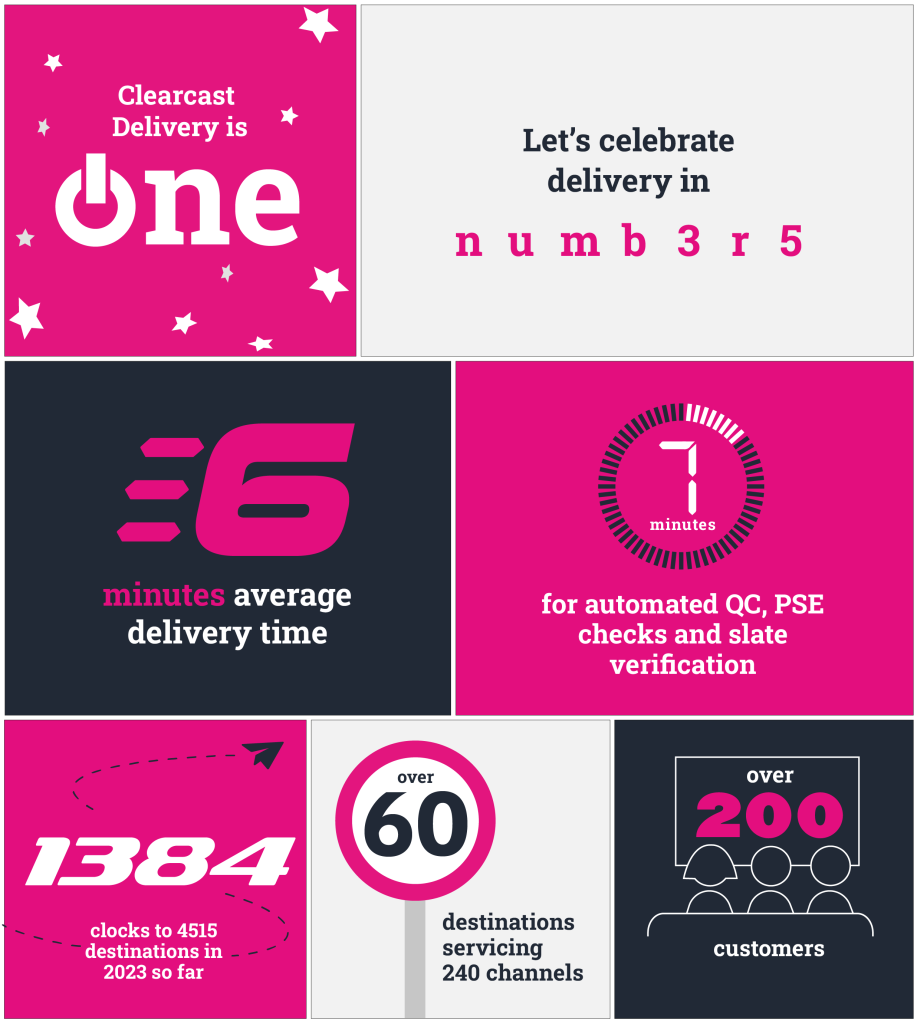 Working hard with broadcasters, we have minimised the number of destinations, presenting a transparent view of the delivery process and reducing costs. In some cases, content isn't delivered because people are "waiting for clearance" to avoid being charged if clearance is denied. Neither broadcasters nor advertisers want this. With Clearcast, delivery happens in parallel to clearance, so should an ad not be cleared and you let us know, we won't charge for that delivery. There is no risk of the content going to air as broadcasters only transmit what is cleared.
We also have no differentiation about delivery speeds and price. One price, one fast delivery. Our full service TV Admin team also smoothly gets content to air including copy rotations and traffic.
"There's so much to be gained from using Clearcast Delivery. It's economical, efficient and super speedy." – Suzie Rodgers, Freelance Producer, October 2022.
"The Delivery service was amazing and The Library is super user friendly, which really helps streamline the process and saves tons of time. Thanks very much to you and the whole team." – Becca Bull, Producer at The Production Factory
What's next?
By delivering ads in parallel to clearance, we've created more time for subtitling ads and we've created a market place for integrated subtitling providers. With Clearcast, delivery and subtitles usually only takes one hour.
Following our successful, industry supported 'Accessible Ads for All' survey, we've identified some of the attitudes around accessible advertising and what the barriers are to creating more. We've released the findings and initial recommendations and will be announcing further activities soon to help ensure your ads are more accessible, whoever you use to subtitle them.
We also have ambitions to automate more of the process, increase transparency of the UI to make life easier for everyone. We will soon be launching user forums so you can tell us what's next!
Thank you again for your support.
Joely, AKA David Joel, Commercial and Operations Director at Clearcast.
Follow us on Twitter and LinkedIn to stay in the loop. If you'd like to sign up to our Delivery and related services mailing list or make an enquiry, please do.